The Obsessed Sailor Moon Fan Club's 7th Newsletter
Contents:
1. Artemis's Site of the Week Award
2. Yamcha's Picture of the Week
3. Our Comments
4. Artemis's Picture of the Week
5. Yamcha's Quiz (Q & A)
6. Fan Fiction
7. Cheryl's Find & Found it Column
8. Cheryl's Moon Beam of The Month Article
9. Cheryl's Merchandise that you might not have
10. Sailor Zen's Anime Review
11. Yamcha's Review of the Meeting
1. Artemis's Site of the Week:
The Lunaverse Home of The Black Neko Clan:
http://www.angelfire.com/ca/lunaverse/
and also Real World of Sailor Senshi:
http://www.geocities.com/TelevisionCity/Set/6083/index0.htm
2. Yamcha's Picture of the Week: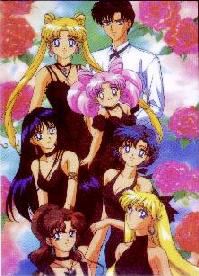 3. Our Comments:
Yamcha's Comments:
Okay well we have over 250 members in the club now and 34 pages in the ring
as for the Sailor Moon Competition we are beating everyone else with a vote of 11 and the second place site has only 2 votes. Also some good news as well The Obsessed Sailor Moon Fan Club now has it's own award you can sign up to win it for your page at the Fan Club's page, and one more thing The Obsessed Sailor Moon Fan Club will be holding a contest soon more details will be posted at a later time so stay tuned.
Artemis's Comments:
Hello all I am afraid that this will be my last newsletter done as the Editor in Chief, I hereby
hand the riens over to Sailor Zen as the new Editor in Chief...
However, I will be continuning my: Comments, Picture of the week and Site of the week award...
Until the newsletter, best wishes to all..., Artemis
4. Artemis's Picture of the Week: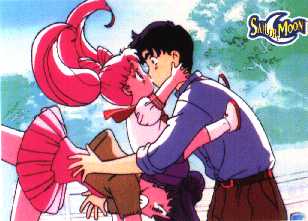 5. Yamcha's Quiz (Q & A):
Answears:
1. Chibi Usa found the future version of the Imperium Silver Crystal inside of herself and used it to help Sailor Moon defeat the Wiseman.
2. Usagi wished on the Imperium Silver Crystal to have Luna turn into a Human after she defeated Princess Snow Kaguya.
3. 5 Times in the anime (1 in R, 2 times in S, 1 in SuperS, and 1 in SailorStarS)
4. The original name of the Silver Imperium Crystal is Maboroshi no ginzuishou.
Questions:
1. How many times was Molly/Naru energy sucking /loss/vateva in the N/A version?
2. What are the names of the Rainbow crystal carriers in Japanese!!?
3. How many cardians were there in the Alan and Ann part of Sailor Moon R?
4. What is the MoonLight Knight's name in Japanese?
5. How many episodes of Sailor Moon SuperS that the Outer Senshi were in?
6. Fan Fiction:
Okay here is this week's fanfic:
Sailor Moon Married Life
7. Cheryl's Find & Found it Column
THE FIND-IT COLUMN by Cheryl P.
I have volunteered to help fan club members to locate merchandise that they
want to buy. Since the last newsletter, here are a few "Found-Its":
Teresa was looking for an anime convention in NJ:
If you go to the list of anime conventions/anime links on the following
website, look at the entry marked "Far East Expo - New Jersey" :
Anime Web Turnpike: Anime Conventions:
http://www.anipike.com/cons.html
Some other entries on this page show conventions for other nearby states as
well. Hope this is helpful. By the way, I will go to the one in NJ, too! It
is not posted as yet, but I will mention it again when it is scheduled. :)
****************************************************************************
****************
The second request came from Vikingpenguin, who wrote:
I saw a really great wall hanging in my favorite anime shop yesterday. But
it's their last one and they won't sell it! So I'm looking for this image in
any form...wall hanging, poster, trading card, scan, anything! I'll describe
it as best I can...
It is a vertically long rectangle. At the top is the Black Lady. To the
right is the moon, to the left is the dark moon. Below black lady (and a
little off to the left) is: Prince Diamond, Sailor Pluto, Sailor Mars, Sailor
Jupiter, Sailor Venus, Sailor Mars. In the foreground and on the right side
is Queen Serena and Tuxedo Mask (kissing).
If anyone can find this for me, I'd be ever so grateful!
Vikingpenguin, your description was perfect! HERE IT IS! - - AND IT IS A
GREAT WALL SCROLL:
t can be found at ANIME MUSIC CONNECTION on the top/right of this page:
http://www.amc-plus.com/SMScroll.htm
It is $12.50 plus SHIPPING AND HANDLING CHARGES.
Anime Music Connection's Sailor Moon Stuff Page (ordering info link at
bottom):
http://www.amc-plus.com/SailorStuff.htm
******************************************************************
My last Found-It is a request sent in by Minako. In her own words:
You said to e-mail if we had one (a request), and boy do I! This one may be
very difficult, too. In Sailor Moon R Part 2, there is a song played that I
believe is titled "Power of Love". I have heard in the background of a wav
mix from that series... but I cannot find the song anywhere! ... The moment
I heard this song I feel in love with it, but all my friends say it can't be
found... I hope this is not true! It is very similar to the songs featured on
the DIC release, and I hope that you can find it for me... please! I love
this song! Thank You VERY much!!!!
Minako, you were right - - - it was tricky to locate, but here it is:
The Power of Love is on the Lunarock CD, available at many sources including
Moon Kingdom Products Home
Page
http://www.cyberus.ca/~cdnsailormoon/
MOON KINGDOM PRODUCTS USUALLY HAS THE CD AND THE TAPE IN STOCK FOR SAILOR MOON
MUSIC. :)
DETAILS:
Sailor Moon & The Scouts Lunarock
Incidentally, this song plays in the DIC North American dubbed episode #81
instead of "La Soldier".
HOPE THIS INFO IS HELPFUL!
Please send your Found-It Requests to: CherieBebe@aol.com
PLEASE PUT "FIND-IT" IN THE SUBJECT LINE - - - thank you!
Cheryl P.
8. Cheryl's Moon Beam of The Month Article
MOON BEAM CENTRAL
by Cheryl P.
For each issue of the newsletter I will present at least one MOON BEAM - a
website suggested for your surfing pleasure. For this issue, I highly
recommend:
W VISION (which is an internet television station that shows anime free via
live stream, as well as some other shows!)
The main page for W Vision is:
http://www.w-vision.com/
On the above page, you can click on the small box and
download the free VDO Player for your viewing pleasure.
A few weeks ago, this site was showing a different episode of a series each
week, plus they have an anime archive for viewing other anime shows as well as
some musical programs!)
The page is offered in English OR Japanese, to make it easier, here is the
address for the anime page in English:
http://www.w-vision.com/wv2/Content/MainDJe.htm
ENJOY! :)
9. Cheryl's Merchandise that you might not have:
MERCHANDISE THAT YOU MAY NOT HAVE
by Cheryl P.
AS I COME ACROSS MORE UNCOMMON OR NEW MERCHANDISE, I WILL LET YOU KNOW ALL
ABOUT IT! HERE IS THIS ISSUE'S REVIEW:
LIVE-ACTION SAILOR MOON SHOW VIDEO TAPE
I have only had the chance to watch one tape of a Sailormoon live stage show,
and it is one apparently which coincided with the Sailor Stars series. It
features Sailormoon, Tuxedo Mask, the Inner Senshi, the Outer Senshi, Galaxia,
and all of the familiar helpers of Galaxia such as Iron Mouse. Even the
Starlights and Chibi Moon are in the show!
The show was not dubbed, so I have to relate whatever I can from the viewpoint
of the action without knowing the actual storyline. The show opens with a
recital by Neptune playing violin and accompanied by the piano playing of
Uranus. It was very good, too. There were also opening musical numbers by
the Starlights. They seemingly were all played by women, but they could rock!
The music was really very good. Basically, Galaxia's henchmen lay a trap for
Chibi to lure the senshi to her. Saturn tries to rescue Chibi but fails.
There seemed to be a few glimpses of a moonlite figure of Queen Serenity
trying to warn the senshi, too! Of course, all ends well, and Galaxia and her
evil crew are gone at the end. I don't want to go into too much detail
because I don't want to spoil the fun for you if you should see it, too! :)
The special effects of the dark forces were excellent - the floor of the stage
seemed to change shape as if going through another dimension! It was very
effective! Also, the lighting was used to advantage throughout the show.
The costumes were "bigger than life" but, from the perspective of a stage
show, it is necessary to make them slightly exaggerated. The costumes were,
all in all, done very well; however, Sailormoon's hair could have been a
little less "doll like" I think, though this is strictly my opinion.
The entire cast was very talented and everyone sang and even danced onstage.
It was well-choreographed, too! All in all, if this is any indication of what
the stage shows are like, I would love to watch them all.
I want to give special thanks to Litachan, who auctioned the tape that I was
able to view. Please pay a visit LITACHAN'S SAILOR MOON SHOP at:
http://members.aol.com/litachan/sm4sale.html
She has many hard to find items and also auctions some of her merchandise on
the eBay auction site (there is a link to it on the above page).
HOPE YOU FOUND THIS AMUSING! :)
Cheryl P.
10. Sailor Zen's Anime Review:
Sailor Zen's Anime Review
by (duh!) Sailor Zen AKA Jesse
Hello and welcom to another installment of my Anime Review. I hope you all enjoyed the first installment of Oh! My Goddess! Cause I sure did! I am having a great time doing this article! It is so cool that I get to review all these great shows for you guys to enjoy. By the way, how am I doing? Got any comments on how I should be doing my article? And send any of your praise to jberrios@worldnet.att.net. Well, on with the show. Well, if you haven't already and bought the series, then you're probably wondering what is going on with Keiichi and Belldandy. Well, at the beginning of volume two: Midsummer Night's Dream (availible subbed or dubbed from AnimEigo) Bell and Keiichi have been living together for five months now, and Keiichi has yet to put the moves on Bell (What is he waiting for, I mean, LOOK at her!!) Bored with the slow rate at which Keiichi and Bell's relationship is going, Belldandy's sister Urd, Goddess of Luv, desides to intervene. Popping out of a TV screen one day, Urd becomes K's "romantic adviser" (PS: parts of this episode are unsuitible for younger audiences, especially the "boob grab" scene) with only one goal: getting Keiichi and Bell to, uh, you know (Score!) please excuse my immaturity folks, but anyhoo, Urd ends up not only nearly drowning Keiichi, but also unleashing something too diabolical for words (a Luv potion! Gasp! The horror!) Will the wicked spell on Keiichi ever be broken, and, more importantly, will Urd ever buzz off?(preferably before getting Keiichi killed) The answer lies in Midsummer's Night Dream, and people, don't pass this series up, its worth it to buy an episode just for the opening song!
Until Next time, Sayonara!
Yamcha's Review of the Meeting:
Well the meeting went pretty good in case you didn't hear it was just a little get together for the Fan Club members on Icq we talked about many things like the new names that the Outer Senshi were given by DIC which are in case some of you don't know yet are Sailor Neptune/Michiru Kaioh is Nerrissa, Sailor Uranus/Haruka Tenoh is Corrin, Sailor Pluto/Setsuna Meioh is Celisa and Sailor Saturn/Hotaru Tomoe is Holly. We all agreed that they need new names, we also talked about the Sailor Moon Live Action Movie which we heard that Sabrina from Sabrina the Teenage Witch will be playing Serena aka Sailor Moon I also came to a starting fact what if they make it a musical type movie *gasp* thats just probably what Disney would do since they do that with everything they make lets just hope it never comes down to that. Other stuff that we talked about was the upcoming contest which as i said before there will be more details later on. Well that was pretty much the whole meeting not much stuff talked about but it was still our best yet I think =)
This Newsletter was created by:
XyamchaX
President of The Obsessed Sailor Moon Fan Club
Artemis
Editor In Chief of The Obsessed Sailor Moon Fan Club Newsletter
and
Cheryl P.
Head Reporter of The Obsessed Sailor Moon Fan Club Newsletter
Sailor Zen
Anime Reviewer of The Obsessed Sailor Moon Fan Club Newsletter