Sailor Says News: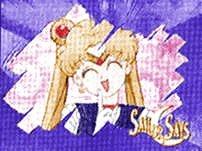 Hello again members of the Obsessed Sailor Moon Fan Club Mailing List and welcome new members. I have some good news and bad news direct from DiC (I just love having contacts there). First I'll get the bad news out of the way, because I hate being left on a bad note! The bad news is that, DiC isn't dubbing Sailor Moon S just yet, though they have the rights to Sailor Moon for another year or two. But they ARE negotiating what to dub, so all those rumours of Sailor Moon S being dubbed from episode 90--111 put out by SOS (I just hate going against them but this I HAVE to) but they're FAKE! FAKE! FAKE! DiC hasn't even decided what episodes they're dubbing, editing or cutting! They get word from Disney on what to do seems Disney owns them, and only Irwin has the rights to put out the Sailor Moon S merchandise! So Sailor Saturn, Sailor Neptune and Sailor Uranus fans, you'll just have to wait! The good news however, is that Disney is currently negotiating about the Sailor Moon Movies (R and S, SuperS will have to wait until the series is ready for dubbing) and the Live Action Feature! This is getting investigated by DiC, which will get back to me, unless the Sailor Moon department at Disney gets to me first! Oh and Aussie fans who are upset about NO Sailor Moon airing here, I have good news, Cheez TV on channel 10 is trying to get Sailor Moon on air with their show!!! They're just waiting for word from DiC and Disney about it. Last but not least, I have found another address for Naoko Takeuchi for the Official Sailor Moon / Naoko Takeuchi fan letter:

Zip Code 112--01

Naoko Takeuchi-Senshi

Editorial Department of "Amie" Kodansha Inc.

2-12-21 Otawa Bunkyo-ku

Tokyo, Japan

Until next time. . .Sailor Moon Says. . .hahahmn, Cya!