Sailor Says. . .
By Cataluna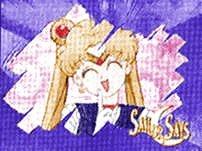 G'day from Down Under! This is a brand new section called SAILOR SAYS, it's a news section written by me--Cataluna, who is apart of the SOSAU office, and SOSAU page maintainer. Seems I'm from Australia, I'll touch on Sailor Moon's future Australia, for any fellow Aussies out there!

At long last, 17 new episodes have been made available to America and Australia (as well as other english speaking countries---Canada already has them), Sailor Moon is due to replay in June 1998, both in America and Australia.
Although it is uncertain that Australia will play Sailor Moon definitely, complete with the new 17 episodes, it is definite that America will play them and Sailor Moon will be shown on Cartoon Network on Cable as of June 1st 1998, at 4:00pm Monday. (Please check local guides for details). This is also seen as a light of hope for other countries that have Cartoon Network, because the cartoons seen in America on the Network, are shown in ALMOST every other country.

A company in Canada has purchased the rights to produce and sell Sailor Moon S dolls, such as Sailor Chibi Moon, Rini, Princess Serena, Tuxedo Mask, Sailor Pluto, Sailor Neptune and Sailor Uranus, so the question remains. . .is Sailor Moon S being dubbed?! Well SOS will be revealing that on May 1st (if you haven't checked out SOS lately, please do so), the 17th new episode was a sneak peak to SMS, and a back issue of the SOS mailing list did explain that Disney is asking DiC and related companies in translating and producing Sailor Moon into English to translate the Movies, so will this happen too?

For those who will be in San Diego early August and attending the comic book convention, make a point to try see Naoko-Sensei who will be appearing there. If you are going to see her, please be nice when meeting her, after all she is the creater of Sailor Moon. Who knows, maybe she's also in America to see DiC and the Forge! (Any Australians attending, please on behalf of Australia, ask her to attend Sydney's Comic Book Convention too!)

Speaking of the Forge, it is stated at Mr. Showbiz's site, that work HAS began on the live action feature of Sailor Moon and Geena Davis will be playing Queen Beryl.
If you'd like to write Queen Geena, the address is as follows:

Geena Davis,
C/o International Creative Management,
8942 Wilshire Blvd,
Beverly Hills,
CA 90211,
USA
Well that's all for now, stay tuned for more exciting information and a new address to write to. . .Sailor Moon Says. . .Hahahhmn, Cya!