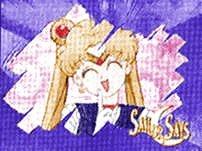 Sailor Says
By Cataluna Wakefield
Welcome fellow Sailor Moon fans, to the third edition of Sailor Says by me. . .the cat of the moon.
Okay so lets get down to it---I have good news and bad news, so this is going to get a little personal and of course another address (hey I always include an address to write to).
First up, the GOOD news:
To those who live in the USA and have Cartoon Network on you local cable channels, you're in luck, Sailor Moon was returned to you by the cool 24 hours a day (can repeat shows up to 3 or 4 times a day) channel known as Cartoon Network!
It plays in the Anime Block known as Toonani at 4:00pm (check your local guides though).
Anyway, Sailor Moon comes with the new 17 episodes too. And if it keeps playing and not taken off (Cartoon Network very rarely takes shows off), who knows SMS may follow, if and when it gets dubbed and that goes for other seasons too.
Imagin 200 episodes (and maybe the movies) all on Cartoon Network.
Ah-hem, back on track here.
For those who live elsewhere and don't have Cartoon Network or Cable, beg and plead with your parents (or if you don't live with them this part also goes for you) Get a cable network that has Cartoon Network to see Sailor Moon!
*Sigh* Now for the BAD news direct from companies:
For all you Australian Sailor Moon fans, (I know you're out there) and waiting for Sailor Moon to return to our air-waves (this may also concern New Zealand) Sailor Moon WILL NOT be returning this year as far as DiC and Channel 7 have told Save Our Sailors in Australia (SOSAU).
Even though when Sailor Moon was taken off air, Aussie fans were promised it would return to Australian TV in June 1998, but now it's not. (That means no Sailor Moon Repeat and not new 17 episodes!)
And even though Sailor Moon is playing on Cartoon Network in the USA, Australia doesn't get it, because Cartoon Network goes by the Austral-Asia Cartoon Network programing, whatever Asia gets, Australia gets.
So, SOSAU has been busily updating their site (finally!!!!) to protest about the invasion from the Negaverse!
*Sniffs and blows her nose* Sorry, it's just so sad and unfair, no Sailor Moon to play and SOSAU is getting out petitions to aim at Channel 7.
The question remains, will we ever get to see Sailor Moon again? From Sailor Moon, Sailor Moon R and Sailor Moon S and any other seasons?!
Anyway, to WRAP things up:
Here's another version of a Naoko Takeuchi Address, and if you didn't get the first one, it can be found here: NTSC *NEW* from Sailor Tin Nyanko's Cat Box (A Shrine) which has made a newer version of the Naoko Takeuchi Support Campaign, seems the other went down and offline
*Gets back on track* so if you live in the USA and don't want to spend lots of money mailing to Japan, use this address:
Naoko Takeuchi
C/o Mixx Zine
746 W. Adams Blvd.
Los Angeles
CA 90089--7727
'Til next time. . .
Sailor Moon Says. . . hahahahmn, cya!