The Obsessed Sailor Moon Fan Club's 5th Newsletter
Contents
Artemis' Site of the Week Award
Yamcha's picture of the week
Our comments
Artemis' picture of the week
Yamcha's Quiz (Q & A)
Fan fiction
Cheryl's Find & Found it Column
Poll
Our comments by:
Artemis': I would like to conduct a readers poll, if there is one in the club who reads this please reply to: jacques@xcelco.on.ca
Yamcha's:
Well we now have over 150 members and about 26 webpages in the ring
Artemis' Site of the Week goes to:
Yamcha's picture of the week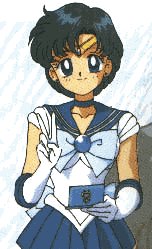 Artemis' picture of the week- Are Luna and I big or is Chibi chibi just very small?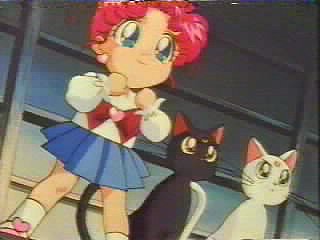 101 Uses for Luna P: None yet I need ideas, so please send them in...
Yamcha's Quiz (Q & A)
Answears:
1. Pegasis was Helios
2. The villian in the Sailor Moon S movie was Princess Kaguya
3. Lita's best friend was Ken
4. The song "Only A Memory Away" was played in the episode "Sailor Mercury Moving On?
5. The Obsessed Sailor Moon Fan Club =)
Fan fiction- Sorry none this week.
We need some fan fics people so if you got any email then to me at:
jasonbo@cwnet.com
Cheryl's Find & Found it Column:
THE FIND-IT COLUMN
I have volunteered to help fan club members to locate merchandise that they want to buy. Since the last newsletter.
Here are a few "Found-Its":
To kali_girl2001, who requested Sailor Moon bedsheets, folders, and binders:
I have located the Sailormoon Bedsheets for you, there is one set left:
http://www.anime-world.com/osm.shtml
You can find binders at Moon Kingdom Products: http://www.cyberus.ca/~cdnsailormoon/
You can find folders at Nikaku Animart: http://www.nikaku.com/njwelcome.html
For Koyuki chan, who requested animated gifs and movie clips online:
FOR ANIMATED GIFS:
You can find animated gifs at Anime Assault: http://www.animeassault.com/gifs_smoon.htm
More animated gifs at Thunder Crash's Sailor Moon Animated Gif Gallery: http://www.thundercrash.simplenet.com/gifs.htm
Koyuki chan, here are some great sites for movies:
Here is a great site to download Sailor Moon attacks/transformations: http://www.geocities.com/Tokyo/Flats/6585/episodes.html
The very famous Miss Haruna's Homeroom is a great site to find movie clips: http://haruna.simplenet.com/
or try one of its mirror-site movie pages such as the movie clip link from Usagi's Anime Webupeiji: http://eon.simplenet.com/Anime/index2.html
Sailor Moon Theater: http://www.furnation.com/dallas/saturn.avi
Serpent's Anime Page: http://serpent.simplenet.com/
XXXXXXXXXXXXXXXXXXXXXXXXXXXXXXXXXXXXXXXXXXXXX
EXTRA!
At Sailor Moon Universe page on the Sailor Moon Movies, you can actually have a chance to watch the Ami's First Love!
Here is the web address: http://www.projectanime.com/sailormoon/sm-movie.htm
(just remember to go to the movie link page at this site)
Go here to get downloads of some episode segments, including episode 200, and also a real anime video player on to download on the top of the page!
http://www.geocities.com/Tokyo/Flats/6585/episodes.html
I HOPE THIS INFORMATION IS HELPFUL!
IF YOU HAVE ANY FIND-IT REQUESTS, PLEASE SEND YOUR REQUESTS TO: CherieBebe@aol.com THANK YOU!
---
MERCHANDISE THAT YOU MAY NOT HAVE
by Cheryl P.
AS I COME ACROSS MORE UNCOMMON OR NEW MERCHANDISE, I WILL LET YOU KNOW ALL ABOUT IT! HERE IS THIS ISSUE'S REVIEW:
LUNA BALL - This is an item that seemed to be mysteriously unavailable until I came across the catalog for the Beaman Company. It is a combination toy with sound effects and lights, similar to the Luna Ball in the series. It looks exactly like the Luna Ball that accompanies Chibi! This item is a little costly, but it is extremely well made and would be a treasured piece in anyone's Sailormoon collection. Also worthy of a note: a small item can be concealed in a hidden drawer in the back. What a great idea!
The Beaman Company web address:
http://www.beaman.com/index.html
(If you want to go directly to the page where you can see the Luna Ball in Beaman's online catalog):
http://www.beaman.com/sailor_moon/sm_6.html
HOPE YOU FOUND THIS AMUSING!
Cheryl P.