The Obsessed Sailor Moon Fan Club's 8th Newsletter
Contents:
1. Artemis's Sites of the Week Awards
2. Yamcha's Picture of the Week
3. The Fan Club's Award of Creativity
4. Artemis's Picture of The Week
5. Our Comments
6. Yamcha's Quiz (Q & A)
7. Fan Fic
8. Cheryl's Find it & Found it Columm
9. Cheryl's Moon Beam of The Month Article
10. Cheryl's Merchandise that you might not have
11. Sailor Zen's Anime Review
1. Artemis's Sites of the Week Awards:
Moon Rain's Sailor Moon Temple
http://www.geocities.com/Tokyo/Garden/3871/
Hye Won's Sailor Moon Home Page
http://www.geocities.com/Tokyo/Ginza/2666/
2.Yamcha's Picture of the Week: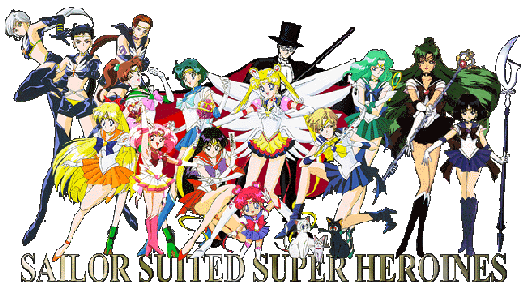 3. The Fan Club's Award of Creativity
The Two winners are
Ukyo ½'s Tottemo Kawaii Sailor Moon Site!!
http://www.angelfire.com/ok/uchan/index.html
Sailor Moon Palace
http://www.geocities.com/Tokyo/Pagoda/3895/
4. Artemis's Picture of the Week: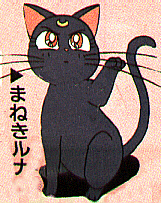 5. Our Comments:
Yamcha's:
Okay well we now have over 280 members in the Fan Club and 36 pages in the Web Ring. As for the Sailor Moon Competition we won Round 2 with 19 votes and now we are in Round 3 already in the lead with 4 votes so please vote for the Fan Club at http://www.geocities.com/Hollywood/Set/1770/sm_kingdom.html
Also in the SMWPR we have 39 votes with a grand total of 287 points Yay! Well thats all I have to say for now but would also like to add that The Sailor Moon Competition Round 3 Ends this Friday so please vote ASAP thank you all :)
Oh and also Naoko Takeuchi creator of Sailor Moon will be at the San Diego Comic Interanational in August!!!
6. Yamcha's Quiz (Q & A)
Answears:
1. Molly/Naru was attacked by Monsters about 15 times in the NA Version
2. The 7 Rainbow Crystal Carriers name were:
1."Crane arashi no Joe"
2. His name wasn't given, he was just a Priest/Minister.
3. Urawa Ryo
4. Yumeno Yumemi
5. Reika
6. Ojii-chan (Rei's Grandpa)
7. Rhett Butler
3. About 11 Cardians in the Ail and Ann Saga
4. The MoonLight Knight's name in Japanese is:
Tsukikage no Naito
5. None But Haruka and Michiru appeard in the 2nd SuperS Special
and Sailor Pluto, Neptune, and Uranus appeard in the SuperS Movie
Thanks goes out to Dark Rubeus and Sailor Euphoria for helping me come up with these questions and also thanks to Andrea for being the only person who answears the questions =)
Questions:
1. In the Sailor Moon manga who killed Nephrite?
2. In the Sailor Moon manga when does Jupiter appear?
3. Who does Mercury's voice in both the NA and Japanese version?
4. How many episodes did Dic cut out of the NA version?
5. Okay this is a hard one name all Seven Shadows names in the NA version?
7. Fan Fic:
This week's Fan Fic is written by Ukyo ½
Scout's Reunite!
8. Cheryl's Find it & Found it Columm:
THE FIND-IT COLUMN by Cheryl P.
I have volunteered to help fan club members to locate merchandise that they
want to buy. Since the last newsletter, here are a few "Found-Its":
MY FIRST FIND-IT REQUEST WAS FROM LITAWYN, WHO WROTE:
"I just finished reading the 7th newsletter from the obsessed Sailor Moon fan
club and I was wondering if you knew where I could locate subtitled Sailor
Moon episodes. I've just bought the movies subtitled and I would really like
to buy the series too. From Sailor Moon S on is what I really want; though I
would like the whole series. I know what an impossible task this will be, but
thank you very much. I would really appreciate any help you can offer."
Litawyn, you are in luck! There are many fansubbers who have the whole series
(what is not commercially available, because then they delete an offering).
Here are the two most highly regarded sources:
VKLL FANSUBBER:
http://www.spots.ab.ca/~lamv/
STUDIO CHIKASHITSU:
http://www.clark.net/pub/stevenf/anime/fansub/
Between these two sources and their distributors, you should be able to find
all of the episodes of Sailormoon/Sailor Moon.
MY SECOND REQUEST CAME FROM PCB755, WHO ASKED:
"Can you help I looking for any places in the UK in which I can get Sailormoon
items and mainly the subbed version of the Japanese episodes and also if there
is anywhere on the net I can get good pictures of Sailor Pluto."
(Please note that your fansub request can be answered with the info to the
first request, above.)
Good news! My good friend Heather at Usagi's House is happy to ship to the
UK. She has many items not mentioned on her online catalog, so please e-mail
her with a request if you don't find what you are looking for there. Heather
has special-ordered European and Japanese Sailormoon merchandise for me, and
her prices are always extremely reasonable! :)
For an excellent selection of Sailor Pluto pictures, please go to the
following websites:
Anime Web Turnpike: Your #1 Guide To The Anime And Manga Internet World!
http://www.anipike.com/
Look up Sailor Moon links on the above website, you will not know which
pictures to pick first.
My second choice for finding pictures is to check out the following:
Index Of The Sailor Moon Ring Of Power *The First & Original Sm Webring*
http://www.webring.org/cgi-bin/webring?ring=sailormoon;index;id=1
There are some of the best Outer Senshi pages in this webring.
Hope this is helpful!
Please send your Found-It Requests to: CherieBebe@aol.com
PLEASE PUT "FIND-IT" IN THE SUBJECT LINE - - - thank you!
Cheryl P.
10. Cheryl's Moon Beam of The Month Article:
MOON BEAM CENTRAL
by Cheryl P.
For each issue of the newsletter I will present at least one MOON BEAM - a
website suggested for your surfing pleasure. For this issue, I highly
recommend:
The first site i recommend is GLEN'S GOOFY SAILOR MOON PAGE:
http://www.autobahn.mb.ca/~glenap/Goofy.html
This has to be one of the most clever and interesting Sailor Moon pages I have
ever read! There are many, many features with links to go to such as: The
Church of Sailor Moon, Sailor Moon Makes the Headlines, a Sailor Moon T-Shirt
Story, and even song parodies of the tunes from the show!
Glen has a great sense of humor and an abundance of knowledge about Sailormoon
and other anime we love. This combination, plus his obvious writing talent,
makes this page a MUST SEE!
******************************************************************
The second website I would like to recommend is Laws of Japanese Animation:
http://members.aol.com/DarrinBrig/animelaw.html
This is another funny website with thoughts on what all anime seems to have in
common. You will enjoy this as much as You Know You Have Been Watching Too
Much Sailor Moon When… websites! J
Hope you will enjoy these selections!
-Cheryl
10. Cheryl's Merchandise that you might not have:
MERCHANDISE THAT YOU MAY NOT HAVE
by Cheryl P.
AS I COME ACROSS MORE UNCOMMON OR NEW MERCHANDISE, I WILL LET YOU KNOW ALL
ABOUT IT! HERE IS THIS ISSUE'S REVIEW:
SAILOR MOON BEDSPREAD
There are many different versions of bedsheets and bedspreads: Sailormoon
prints from Japan and China and Sailor Moon prints adapted from the North
American version and logos. The bedspread I have would be classified as a
Sailor Moon version bearing the purple and blue colors, as well as the
crescent moon logo, which are predominant in merchandise based on the DIC
version of the series.
The print features the images of Sailormoon and the Inner Senshi. There are
also images of Sailor Moon eating an ice cream cone and also in her famous
stance where she is saluting and in her sailor uniform. The background is
basically blue and the top and bottom edge are violet with images of the
scouts as well as the crescent moon. Also, there are the rainbow bubbles
associated with the episode in which the history of the Moon Kingdom is
explained - the Moon Children, plus advisors, are sent to Earth to be
reincarnated in the future in the colored orbs. It adds a nice touch to the
design and enhances the images of the scouts.
This is a very soft and warm comforter, and was well worth the money. It can
be purchased from The Sailor Moon Super Store:
http://www.smoonstore.com/
Check out the picture of this item on the website for a true image of the
item.
Hope you found this info interesting!
Cheryl
11. Sailor Zen's Anime Review:
Sorry Zen seem's to have disappeard without sending me his review so thats what this kinda came out late I was waiting for him to send it to me but he didn't so blame him hehehe