The Obsessed Sailor Moon Fan Club's
6th Newsletter
Contents:
Artemis's Site of the Week Award
Yamcha's picture of the week
Our comments
Artemis' picture of the week
Yamcha's Quiz (Q & A)
Fan fiction
Cheryl's Find & Found it Column
Cheryl's Moon Beam of The Month Article *New!*
Cheryl's Merchandise that you might not have
Sailor Zen's Anime Review *New!*
Yamcha's Trip to Fanime Con 98
Artemis's Site of the Week Award
Artemis' Site of the Week Award goes to:
Moonie's Senshi Mailing List
& Sailor Serena's Sailor Moon Mialing List
Yamcha's Picture of the week:
Here's a cute one Chibi-Usa =)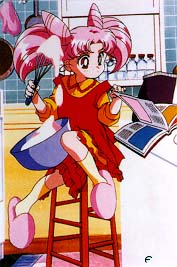 Our Comments:
Yamcha: Well It seems I'm the only one who has comments this time
anyways there are about roughly 205 members in the Fan Club and 28 web sites in the Fan Club's webring also I will probably be making a subdirectory of the Fan Club's page so the new address would be:
http://members.tripod.com/~yamcha27/Sailor_Moon_Fan_Club/index.html
But I'll make copies of the html files and you can still access the page at the old address. Also for those of you who joined The Dragon Ball Fan Club due to the fact that the name was taken from Dr.Gero who used to run the old Dragon Ball Fan Club and he asked me to change the name of the club so it's now called The Dragon Ball Z Force Fan Club 98. Okay thats all for now untill next time.
Artemis's Picture of the week: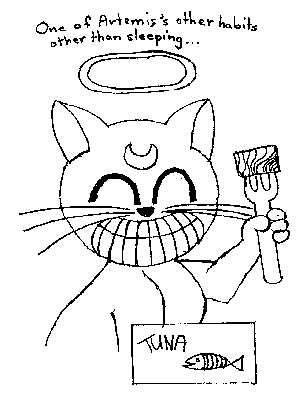 Yamcha's Quiz (Q and A):
Sorry about not having any questions for the last newsletter I complety forgot about it but hopefully that won't happen agian =)
Questions:
1. What helped to defeat The Wiseman at the end of Sailor Moon R?
2. How did Luna turn into a human in the Sailor Moon S Movie?
3. How many times does Sailor Moon get her sailor outfit changed?
4. What is the original name of the Imperium Silver Crystal?
5.
Fan Fiction:
Okay we finnally got a fan fic now Yay!
Fan Fic
Cheryl's Find & Found it Column:
THE FIND-IT COLUMN by Cheryl P.
I have volunteered to help fan club members to locate merchandise that they
want to buy. Since the last newsletter, here are a few "Found-Its":
DSchnauzer's request was to find the book entitled Sailor Moon Friends and
Foes. I found this book for him at a cost of $8.50 (not including other
charges such as S/H) at:
LITACHAN'S SAILOR MOON SHOP
http://members.aol.com/litachan/sm4sale.html
Litachan's store features many hard to find items at reasonable prices, and
she also auctions some of her merchandise there. I have found her to be very
nice and very helpful. Thank you, Litachan! :)
ANOTHER KIND OF FANSUB:
THE SAILOR MOON SUPERSTARS RADIO PLAY
http://www3.bc.sympatico.ca/radioplay/Index.htm
Thought I would share the endeavors of a dedicated group of Sailor Moon fans
who are producing an AUDIO cassette fansub of several of the episodes,
beginning with the first one. From the sound samples on the website (check
their links to find them), the first tape is based upon the DIC script. Hope
you enjoy the .wav files as much as I did. They are not going to make a
profit on the distribution of these tapes. It will be a "break even" venture
for them. I thank them for their noble efforts!
I HOPE THIS INFORMATION IS HELPFUL!
IF YOU HAVE ANY FIND-IT REQUESTS, PLEASE SEND YOUR REQUESTS TO:
CherieBebe@aol.com
THANK YOU!
Cheryl's Moon Beam of The Month Article *New!*:
MOON BEAM CENTRAL
by Cheryl P.
For each issue of the newsletter I will present at least one MOON BEAM - a
website suggested for your surfing pleasure. For my first column, I highly
recommend the following sites:
MY SAILOR MOON AND OTHER STUFF PAGE:
http://www.king.igs.net/~ajhd/index.htm
You find links to everything on Andrea Doolan's great webpage: Japanese vs.
DIC episodes, Japanese Grammar and Vocabulary, Andrea on Jonovision (Canadian
talk show), Review of Sailor Moon CD's, Fansubs (including Day of Destiny!),
and so much more!!!
And be sure to visit Dino Cerisano and Andrea Doolan's gigantic (all the info
you need) Sailor Moon page:
DINO AND ANDREA'S SAILOR MOON PAGE:
http://www1.kingston.net/~praxis
Here, find links to Tuxedo Mask, The Cats, Enemies, and also to the Fansubs.
Dino recently sent me e-mail about the new titles available, here is an
excerpt of the letter (please see the website for further details on pricing
and S/H charges):
New Titles
-------------------------------------------------------------------
Sailor Moon 4-8
Sailor Moon 9-12 (March)
Sailor Moon S 98-101
Sailor Moon SS 150-153
Sailor Moon SS 154-157
Sailor Moon SS 158-161
Sailor Moon SS 162-166
Magic Knight Rayearth 16-20 (New Copy)
Magic Knight Rayearth OVA #1
Nurse Angel Ririka SOS (Last 2 Tapes)
THANKS, DINO!!! Many of us are sure to enjoy these newly offered fansubs and
we appreciate the work that you and Andrea do. :)
See you next time for another MOON BEAM!
Cheryl's Merchandise that you might not have:
MERCHANDISE THAT YOU MAY NOT HAVE
by Cheryl P.
AS I COME ACROSS MORE UNCOMMON OR NEW MERCHANDISE, I WILL LET YOU KNOW ALL
ABOUT IT! HERE IS THIS ISSUE'S REVIEW:
ETERNAL SAILOR MOON DOLL by Bandai (Japanese version):
The Bandai dolls tend to be beautiful and this doll is exceptional. First of
all, the face of this version of Eternal Sailor Moon is an excellent likeness
of the character and captures the personality we have grown to love in the
anime. The costume is well made and the wings are pastel and iridescent,
adding to the image of the fantasy. An interesting note: this doll comes
with a change of clothes (a pink polka dotted dress) to transform the doll
back to Serena. Incidentally, this exact doll was featured in commercials in
Japan during the last season of Sailormoon.
This doll was purchased at the HOUSE OF ANIME:
http://www.houseofanime.com/
Until next time! - Cheryl P.
Sailor Zen's Anime Review *New!*:
Sailor Zen's Anime Review
Hello everybody! I know we all LOVE Sailor Moon, but face it, shes not the only anime out there! Hense my column. Every month I will be reviewing a diffrent anime tape, sometimes you will have heard of them, other times you probably never even heard of them! But hopefully, you will always be interested. You might even want to go and check it out! I will start out my new column with the first in a series of reviews on Oh! My Goddess! Well, enough hooplah, lets cut to the chase! When Nakomi Tech. freshman Keiichi Morrisato dials a wrong number, hoping for a take-out place, he is accidentaly connected to the Goddess help line! Goddess's? No way! Things only get wierder from there on when a beautiful woman enters Keiichi's dorm, through a mirror! Belldandy, the goddess, tells Keiichi she is there to grant him one wish, but Keiichi, thinking it a joke set up by his sempais, decides to make the plan backfire and wishes that Belldandy be his girlfriend forever! And then, it happens. "Congradulations Keiichi, your wish has been accepted!" says the beautiful goddess, just as Keiichi's sempais appear, making Keiichi remebers, NO GIRLS ALLOWED! Keiichi is cast out of the dormatory and is forced to find him and Bell a place to sleep. After hours of driving (and some cool motorcycle scenes) Keiichi and Belldandy arrive at an old, rundown temple. Will Belldandy make it through the night? Will this rundown temple provide them with shelter? Will Keiichi survive the next day? And what the heck is that thing on Bell's head! Find the answers to these questions and more on tape one, Moonlight and Cherry blossoms, availible dubbed and subbed from AnimEigo. This is a cute (kawaii) love story with a little divine intervention! Check out Oh! My Goddess! Right away! you won't regret it!
Yamcha's Trip to Fanime Con 98:
Okay well last weekend I took a trip down to San Jose in California well actually it was in a town called Los Altos but it was near San Jose, but anyways
I only got to go for one day and that was the second day. I got there in time to see a fansubbed of the last Sailor Moon R episode which I thought was pretty good. Afterwards I walked around and went to the Dealers Room where I got some things like a Sailor Moon Sailor Stars shirt, three episodes of Tenchi Muyo In Space, a pack of Dragon Ball playing cards, some Magic Knight Rayearth cards, a Tenchi Muyo shirt, and a Fanime Con button. Also I saw some people dressed up there as some anime charectors like The Three Lights from Sailor Moon, The three Magic Knights, two girls dressed up as Sailor Jupiter and Sailor Saturn, one girl dressed up in Rei's temple outfit, one guy dressed up as Ken from Street Fighter, and one lady dressed up as Artimage. Well since this was my first Anime Convention I thought it was pretty fun and it certainlty won't be the last I also plan on going to Anime Expo 98 this summer in LA so if any of you are gonna be there let me know =)